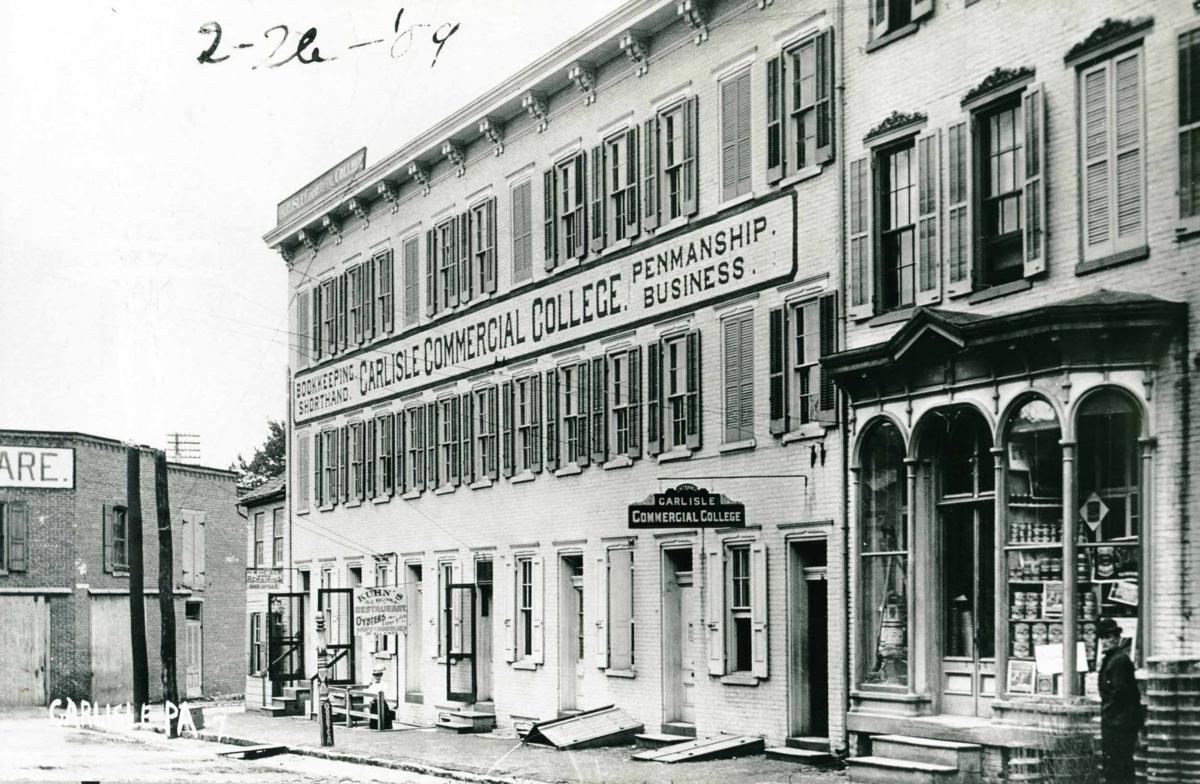 "Renowned poet was among the alumni of the Carlisle Commercial College." Joseph Cress, The Sentinel, August 26, 2016, page 1
That Moore attended the Carlisle Commercial College during the academic year 1909-1910, right after college graduation, is well known. An article from the Carlisle Sentinal for August 26, 2016, claims that she had been offered a job at the Carlisle Indian School but felt she had to build her skills to teach commercial subjects there. In fact, after her year of commercial training, she took a position at the Lake Placid Club in Lake Placid, New York, under Melvil Dewey. She was laid off there in the fall of 1910 and the next year went to the Indian School.
Carlisle Commercial College offered a "Commercial Course" with "classes in bookkeeping, business forms, business correspondence, commercial law, business customs, banking methods and spelling." It also offered a "Shorthand Class" for mastering "shorthand, touch typewriting, letter press copying, definitions, filing methods, punctuation, letter writing, office practice and composition" A third course combined the two.
The college operated from about 1896 to 1968. An undated brochure, probably printed soon after 1909, describes the subjects taught. Commercial Law: "Knowledge of Commercial Law such as we teach is a safeguard that no one starting out in business can afford to dispense with. . . ." Rapid Calculation: "Go into a business office today to apply for a position and one of the first questions asked . . .will be 'Are you quick and accurate in figures'? Considerable attention is given to this important subject in drill work in rapid addition, subtraction, multiplication and division." Penmanship: "We teach plain rapid muscular movement writing, such as a person may execute with ease for hours at a time." Typewriting: "By the touch method of typewriting persons learn to typewrite just like they would play a piano – without watching the keyboard and with a great deal more ease, accuracy and rapidity than by the old method." Office Practice: "Our STENOGRAPHER'S OFFICE PRACTICE . . . is intended to be the final step in the training of the stenographer. In addition to this the student has the privilege of acting as private secretary to the principal for a time before going out which give them actual experience."
After completing her year at the college Moore taught "business subjects" at the Indian School. According to James Fenton, in an article published in the New York Review of Books on April 24, 1997, "It was more than a job, it was part of a cause. It involved not just the teaching of secretarial skills and math, but also instruction on how to read and draw up a contract." And, as Anna Jane Moyer wrote in an April, 1988, article for Gettysburg Magazine, "She also repaired typewriters, coached the boys in field sports and introduced a class in law to help make her students aware of their rights."